So, you have decided to go with an Ariel mermaid wedding dress. Great choice we must say. Mermaid dresses are one of the most elegant kind of dresses that make almost everyone appear an awestriking diva.
Different types of mermaid dresses have been known to flatter a variety of body shapes, an attribute no other kind of dress possesses.
Also known as a trumpet wedding dress, mermaid dress fits closely until the knee and begins to flair out beyond that, thereby creating the shape of a fishtail or a trumpet.  
Now, let's come to the prime context of this blog – tips for choosing a mermaid dress. Are you ready? So, here we begin
#1. Take Note of The Flare Height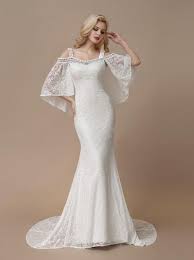 While this is not rocket science, but a height of flare is directly proportional to your own height. The shape of your body matters a great deal too. Now, if you want to create the illusion of an hourglass body shape, you should choose a dress that starts to flare at the hips. Contrary, should you want to show off more of your body, go with a lower flare, perhaps one that begins at mid-thigh or even lower. Finally, if you want to go with traditional mermaid dress, opt for a flare that begins at the knee.
#2. Then Consider Flare Width
Both height and width are of grave importance. Starting with a slim flare, this is a flare with lesser width, imagine an A-Line dress, only a tad wider. Talking about wider flares, these add volume to the dress, especially when topped with tulle. Finally, a fuller flare that begins at knee should add an edge to your entire wedding look.
#3. Try Flare with a Train
For a perfectly elegant look, opt for flare with a train. Or at least try one on. As a flaunting style, mermaid dresses accentuate your curves and add a classic touch to the look. Mermaid dresses with a train add to the drama when you bustle the train to move it out of your way. And when you do that, you end up adding more volume to your skirt's or hem's flare and enhancing the mermaid shape for good.
#4. The material of Flare – Silk or Lace Vs Tulle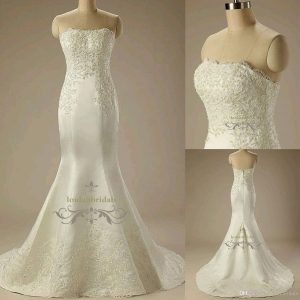 This is a no-brainer. The material certainly holds a great impact. Mostly, flares are made of the same material as the rest of your dress. Such dresses are made in silk or lace. Then, there are other kinds of mermaid dresses, the kinds that carry layers of tulle or those with ruffles.
#5. Flared with an Under Layer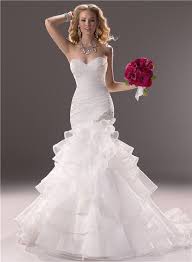 Let's dramatize a mermaid dress. Seriously, the designer who created a flare with an underlayer must have had the same thought. Anyway, mermaid wedding dresses that are flared with an underlayer have the dress fabric extended down to the floor with a section in the skirt that is gathered so as to show the tulle under the flare. These kinds of mermaid dresses are made of silk or satin. This could make a brilliant choice if you want to accentuate your hourglass body shape.
Final Words
While here we talked about the bottom half of the dress, it is important to pay equal attention to the top half, especially the neckline. Strapless or tube-shaped mermaid dresses have been a bride's favorite since long.